A space with a lot of personality designed for you to relax.
Room
Doble deluxe with balcony
A room that surprises for its size (21 m²), for its personality and very careful decoration.
(Capacity up to 3 people)
Views of the vibrant comings and goings of the Gros district and 19 m² in which to relax and unwind.
More than just rooms
We wanted to create small sanctuaries where you can forget about the rest of the world.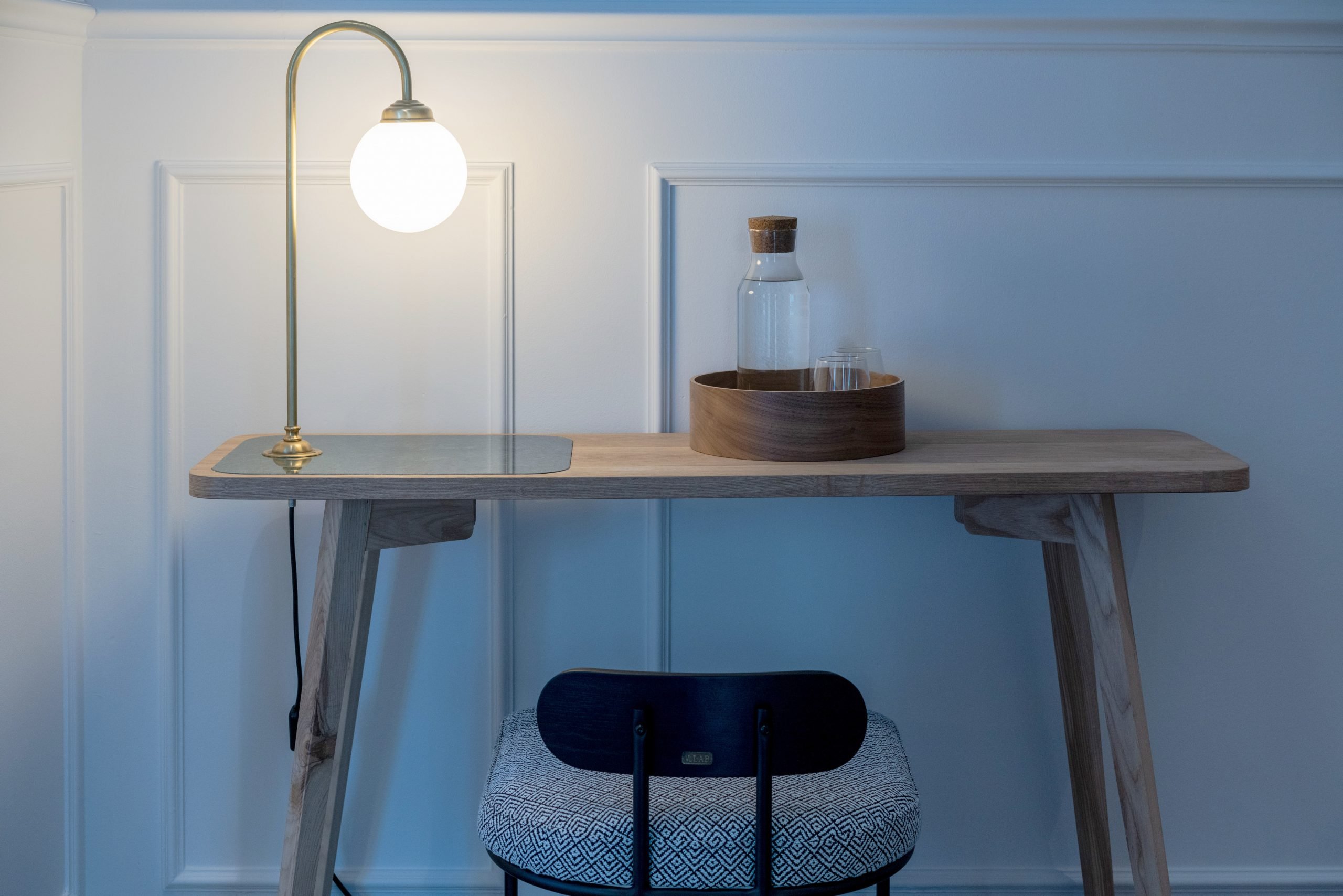 Because we want you to remember the comfort of the bed you slept in at Hotel Trueba over time.
The perfect temperature of the room.  The little details that made you so happy when you arrived.
The contemporary decoration… neither too little nor too much: just the right amount to make you feel at ease.   We want you to be able to recharge and fully enjoy our charming city in total comfort and style.
Enjoy our self-service bar and common areas, spaces designed to create unforgettable moments in good company.
The Hotel Trueba team never leaves anything to chance.  Every detail is meticulously studied so that our guests live an unbeatable experience. Do you have special needs or preferences?
Just let us know and we will make sure that everything exceeds your expectations.  That's the Trueba Commitment.
We love (good) surprises!
03
we love to surprise you positively when you least expect it! And that's why, in keeping with the celebrated Basque hospitality, we welcome our guests with some good recommendations to eat, and a big smile! You can be sure that, at Hotel Trueba, this will never be lacking!
Small relaxing sanctuary
04
W
e believe that your bathroom is much more than a space for personal grooming. Your bathroom is a small private "sanctuary" in which to relax, pamper yourself and enjoy your private moments without any rush.
That's why all of our rooms incorporate a comfortable, contemporary space full of personality.
While you enjoy your vacation the world keeps turning and you need to be informed and in touch, especially if you travel to Donosti for professional reasons.  Hotel Trueba offers you free high-speed WiFi connection in all our spaces, private or common.  Disconnect or connect comfortably whenever you want.
It's your rest, your bed distribution!
06
A
t Hotel Trueba, chance does not come into play.  That is why, when you tell us that you want a specific bed distribution, we follow your instructions.
Because we know how important the bed distribution is to be able to disconnect and relax properly.  At Hotel Trueba you will never have any unexpected (and unpleasant!) last minute surprises, you can be sure of that!
Details that create unbeatable experiences
07
L
ose yourself in our magical spaces designed with the utmost attention to detail: local motifs, wood, artwork, spacious closets… and enjoy the silence in our soundproofed rooms with premium windows.
Contemporary accommodations with lots of personality and warmth equipped with extra large beds with viscoelastic mattresses and soft linens to make you feel even better than at home after a long day of work and/or fun in our amazing city.
.
Previous
Next